Construyendo sueños, construyendo hogares.
En Amado Salvador sabemos que tu hogar es especial. Porque tu hogar habla de ti, porque además de ser un lugar donde vivir ha de ser tambián un espacio donde poder reflexionar, descansar y disfrutar, para que realmente sea el espacio donde siempre quieras regresar… queremos ayudarte a darle exactamente el aspecto que tú deseas que tenga… Porque Amado Salvador, Ama tu Hogar.
NOVELTIES RSS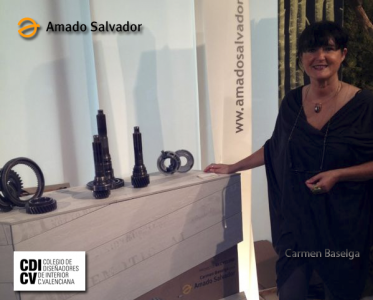 We wish to say thank you to Carmen Baselga, the dean of the interior design College of the Comunitat Valenciana for her time designing our place at the event.
It is going to stay in our showroom in Gran Vía Marqués del Turia 48.
We wish to invite you to come to our showrooms to be able to catch ideas with the products that we can offer you.
Here we can explain you how Dean Carmen Baselga understood the concept of the design of our stand.
Project: RECYCLING- gearbox
From Carmen Baselga
To Amado Salvador
RECYCLING- gearbox it's a project that Carmen Baselga developed for Amado Salvador for the ninth edition of the brands associated for the Design, celebrated in Valencia, in the Naves the next 28 th of the June 2012.
It was designed from a composition called Triplo, it was a kind of modular cardboard. She mixed up just two different materials porcelanic tiles and scrapping car pieces.
TreverkSing is a new product of Marazzi. It´s a porcelanic tile. Its appearance is inspired in the recycled wood that in the past they used to pack. This collection offer us different sizes and colours that give you lots of possibilities to create nice spaces.
There are seven different colours. We chose the white one for this occasion, a white with a lot of shades, this white is a long way for the clear white that we used to know to approach to nature, but when the hand of the man take part in it.
This idea inspired in the recycling aspect has been supported with small pieces of gearboxes. They were obtained from a decontamination centre of vehicles out of its useful life, this want to say, pieces that you use again to repair in other vehicle in use.
All the pieces used are from a gearbox. Pieces to synchronize, movables, gears, conic and cylindrical bearings, oil bomb, primary axis… Everything put in order in a different way, far from its original use. Now they have a aesthetic sense by themselves. They can generate emotions and experiences different that when they are in a car.
These pieces seems that they are not very important, but the fact, explained by the worker was that simplifying a lot, all the gearbox are necessaries to make all kind of engine work properly.
Carmen wanted to express that she was very happy to collaborate with Pillar Salvador and all the Amado Salvador team in this small challenge.
We show you the link where you can see some pictures from the event.
Read more
During the same dates that the Formula 1 Amado Salvador prepared an event close to La Ciudad de las Ciencias y las Artes.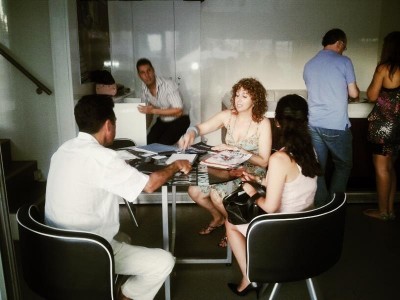 Come to visit our showrooms, we are the most unique and competitive brand of the European market . We can advice you about the things you really need before and after you make your order. Remember it is the original Italian brand Jacuzzi.

 

You can see in the next link all the pictures of the event. Remember to click in the "I like" in our fan page to receive all the news of Amado Salvador.

Read more

ver más